Spikular Noten
Statistics
Japanese Name:
Spikularノッテン
Romanized Name:
Spikularドリスヴァンノッテン
English Name:
Spikular Noten
First Appearance:
Introduction Arc; Comic 53
Species:
Hedgehog
Alignment:
Marines, Can be neutral when it comes to pirates that have caught his eye.
Occupation:
Oka Shichibukai
Affiliations:
Shichibukai
Epithet:
" Eternal Ash " Spik
Former Bounty:
330,000,000
Creator:
Light-Called-Hope
Devil Fruit
Japanese Name:
Hai-Hai Fruit
English Name:
Ash Ash Fruit
Meaning:
Ash
Type:
Logia
Past
Nothing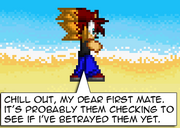 is known about Spik's past at this point, though it is implied that it has left the World Government weary of his true alignment.
Introduction/Raven's Point Arc
Spik is no where near Raven's Point, instead, enjoying a vacation on what appears to be the beach of an island. Unfortunately, his First Mate, Haru Dem, has reported that the World Government has contacted him via Den-Den Mushi and wishes to speak him with. He prepares to head out into the sea once more.